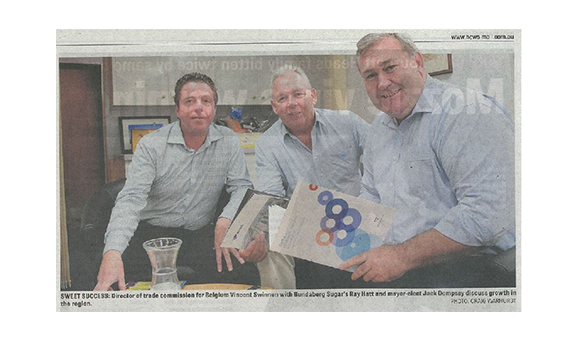 In brief: The Trade Commissioner of Belgium (Wallonia & Brussels) Vincent Swinnen met with Bundaberg Mayor-elected Jack Dempsey and Bundaberg Sugar CEO Ray Hatt, in order to discuss export opportunities, business relationships and education.
In April 2016, Mr Swinnen (Director of trade Commission for Belgium in Australia) met Ray Hatt (Bundaberg Sugar CEO) and Jack Dempsey (mayor-elect of Bundaberg) in order to discuss growth in the region. New varieties of sugar should deliver significant benefits, and the commitment of Jack Dempsey to an export office in the region of Bundaberg is already taking up on any opportunity.
'Mr Swinnen's visit was a great opportunity to showcase Bundaberg internationality'
The expansion of the network of contacts is one of the major roles of a trade commissioner. During this meeting, the potential of the region of Bundaberg – namely different cane types - was presented. Therefore, Mr Swinnen's visit was a chance for this sector to meet new suppliers by underlying their resources and usefulness in the global market.
At the end of the day, it is about building partnerships. As a meeting does not only focus on business relations, it is also a chance to forge bonds with another culture.
For more information:
Read the full article: http://www.news-mail.com.au/news/growing-global-market-potential/2987368/